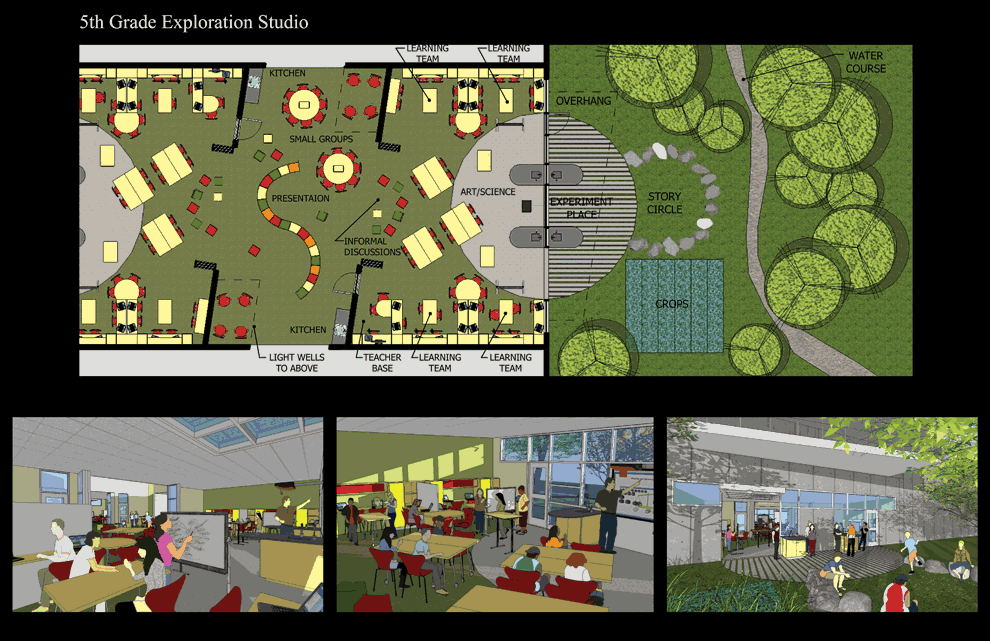 Perhaps this is a road to frustration, but over the next few posts, I'd like to look at some new models for schools and school buildings that apply what we have learned over the past 30 years or so about teaching and learning. By and large, a high school teacher from 1870 would be completely comfortable with the way I am expected to teach most of the time in most American schools: 1 teacher with 25 kids seated at desks, stuffed in a box for between 40 and 80 minutes in a time. We now know that this serves about 15% of the students in front of us well. The rest of them are either forced to try and adapt or spin their wheels, which can interfere with the process for me and the other students.
I am not delivering any news here, but I hope I can spread some of the ideas people are playing with to get teaching to line up with what we know about learning. Above is the
winning entry
in a
competition by Slate.com
to come up with new models for the 21st century classroom. The hallmark of this design is the
variety and flexibility of the space
. As the article points out, the space for a single classroom incorporates
adjustable furniture, a messy art area, video screens large and small, communal areas for classes to share, carefully placed mirrors that allow for eye contact when a student and teacher sit at a computer together. Trish Fineran, the teacher on our panel of judges, loved that the tables were on wheels. She loved the integration of spaces enabling solo work as well as large and small group projects.
Check out some of the
other leading proposals here
. I hope I'll have the opportunity to highlight a few more from this competition, but first I want to get some other ideas from other sources in posts to follow.
In the meantime, I must still try and literally think outside of the box our 80-year-old high school buildings are made out of. I must try and make my plans more authentic, introduce more collaboration and capitalize on the skill sets and prior knowledge my students bring to the classroom. I don't know if my career will last to the day when we can fix these dreadful old buildings, but maybe I should pretend I'm already in one.